I don't know what it is about herbs, but I absolutely LOVE them. I love they way they look, the way they smell, I love learning what health benefits they bring, I'd love to have a garden of fresh herbs some day, and I put them in about every single food I make. When I first discovered herbs, they were dried, chopped, an in plastic bottles in my mother's cabinet. My favorite place to put herbs is still on sandwiches. I discovered fresh herbs (novel idea, no?) and became even more elated.
Today I made a haphazard turkey wrap with herbs in them. I chopped up some fresh parsley, and cilantro from the veggie drawer in the refrigerator and sprinkled them on some turkey in a tortilla wrap. Then I went outside and broke off three leaves from my mother's white sage plant and roughly chopped it to add to the wrap. I also have a newfound love for cayenne pepper, so I couldn't help but sprinkle some of that on there too, and then I topped it off with a slice of swiss cheese and I let it sit in the George Foreman grill for the sole purpose of the cool grill marks. :-D heehee It was REALLY full flavored, and I'm not sure if the average person would like this combination, but I loooooved it.
I'm such a cilantro fan.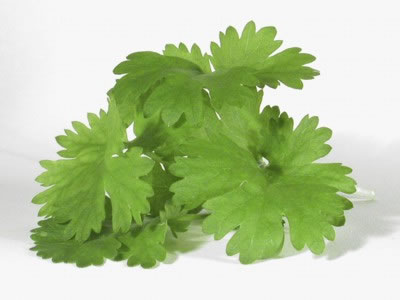 Not to mention, it's really good for you! It helps to detox metals in your body and acts as a "blood cleaner," and it also helps to control blood sugar and fight inflammation.
Sage is also really good for you because it also acts as an anti-inflammatory. A lot of people use sage to help with the swelling and pains of arthritis, and sage tea can be used to relieve a sore throat or an upset stomach.
Lately, I've been really fascinated by cayenne pepper, and I'm trying to learn more about it. I've read that cayenne pepper is good for your heart and blood flow, because it helps to get your blood moving, and it's also important to take cayenne pepper with your OTHER herbs, because it helps to bring out more of the benefits of those herbs, and it's also very good for your digestive system, which consequently, can also aid in weight management.
I've seen cayenne pepper capsules in health food stores. Although I firmly believe that if you can get your vitamins, herbs, and other health benefits straight from eating the food, cayenne can take a while to get used to, so I'm considering buying some while I work up my tongues heat tolerance!